This month's Mixology Monday is hosted by Dave from the The Bar Man Cometh blog. Dave choose Flores de Mayo – Floral Cocktails as the theme.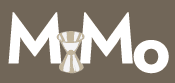 My mother was visiting for Mother's Day and a floral cocktail was in order; this month's theme was serendipitous indeed. In honor of my Polish mother the cocktail was named Piwonia, (pronounced "pivonia"), the Polish name for the peony flower. We had just bought her peonies for Mother's Day and the hue of this cocktail matched them perfectly.
Piwonia
1 1/2 oz Gin
1/2 oz St. Germain
1/2 oz Lemon juice
2 dashes Orange bitters
1 dash TBT Aromatic bitters
1 strawberry
In a mixing glass muddle the strawberry then add the ingredients. Shake well and double strain (with a sieve) into a chilled cocktail glass. Garnish with a rose petal for contrast (as opposed to a peony petal).
---